Apple has rolled out new Apple TV support for streaming purchased television shows in Australia, Canada, and the United Kingdom. Users in those countries have been able to rent movies directly on the Apple TV, but purchased content was required to be downloaded to a computer and then streamed to the Apple TV via Home Sharing. With the new update, purchased TV shows are simply stored in iCloud and streamed directly to the Apple TV on demand.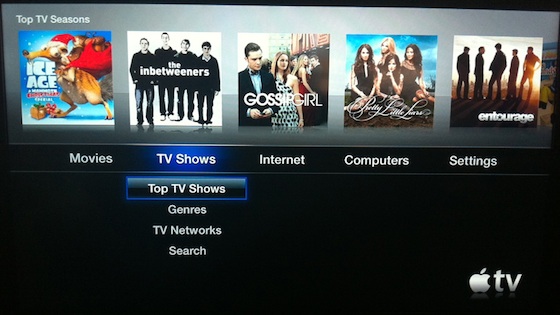 TV shows on Apple TV in Australia (Source: Mac Prices Australia)



Apple TV streaming of purchased TV shows

came to the United States

back in August. That addition was accompanied by a new

TV Shows section

of the purchased items listings in iTunes, allowing users easy access to download purchased shows to any device.





Besides TV show purchases, Apple had previously offered 99-cent rentals of TV episodes. Apple

discontinued that offering

in August, noting that customers preferred to purchase their shows and that the new iCloud flexibility offered additional benefit to purchases.
If you found this post useful or interesting, don't forget to press the

+1

Button