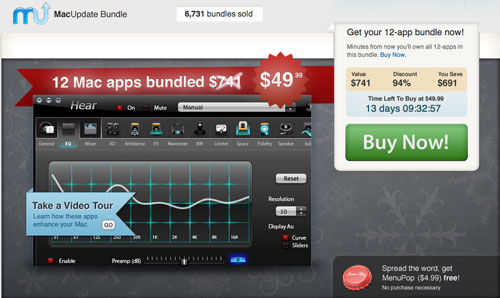 Two websites are offering big discounts on preset bundles of Mac Apps.
First up,
MacUpdate's
Winter bundle includes 12 Mac apps for
$49.99
(a $741 value if purchased separately):
- TechTool Pro
($99) Hard drive and system repair & maintenance tool.
- IconBox
($24) Organize and customize icons across your Mac (First 15k buyers)
- TotalFinder
($18) Adds tabs, hotkeys, and other tweaks to the Finder
- Postbox 3
($29) Powerful and flexible email client
- FontPack Pro Master
($300) 6,200+ royalty free, commercial use fonts plus font management utility
- Labels & Addresses
($49) Powerful label & envelope printing tool
- Mac DVDRipper Pro 3
($19) Copy DVD video to your Mac
- Back in Focus
($99) Refocus blurry images
- NeverWinter Nights 2
($19) Role-playing game with infinite possibilities
- Hear
($19) Improves audio quality and adds audio options system-wide
- iClip 5
($19) Get past the limitations of a single clipboard
- FoldersSynchronizer
($40) Synchronize or backup files, folders and disks
MacRumors
is a promotional partner with MacUpdate. Bundle sales through these links benefit
MacRumors
financially, and provide a way for readers to directly support this site. Buy all 12 apps for
$49.99
.
Apparent Software
has put together a second bundle called
ProductiveMacs
consisting of 8 apps for $39.99, a value of $264 if purchased separately: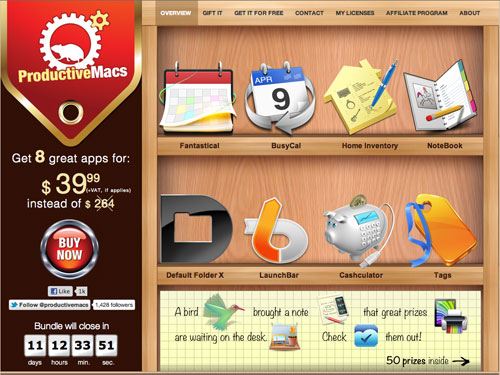 - Fantastical
($20) Meet your new assistant
- BusyCal
($50) The easy way to share your calendars
- Home Inventory
($15) Your stuff at your fingertips
- NoteBook
($50) Powerful note taking and organizing
- Default Folder X
($35) Your folders and much more
- LaunchBar
($35) Everything on your Mac, a few keystrokes away
- Cashculator
($30) The most productive way to track your finances
- Tags
($29) Manage your files, folders, emails and photos in a way far superior to folders
If you found this post useful or interesting, don't forget to press the

+1

Button