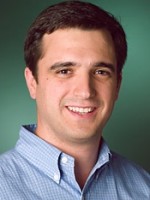 "Apple has hired Adobe's Todd Teresi to head iAd. Story coming..."
Teresi has served as VP of Adobe's Media Solutions division for the past nine months, having previously held positions with Quantcast, Yahoo, and PriceWaterhouseCoopers.





iAd, which has reportedly struggled to gain momentum due to high pricing and Apple's demands for substantial creative control, was

launched in July 2010

following Apple's

acquisition

of mobile advertising firm Quattro Wireless earlier in the year.





The iAd division was led by former Quattro founder and CEO Andy Miller, who then

left Apple

in September 2011 to take a venture capital position. iAd has since been

overseen by Eddy Cue, who is also responsible for the iTunes Store, App Store, iBookstore, and iCloud.
If you found this post useful or interesting, don't forget to press the

+1

Button